From Rags to Riches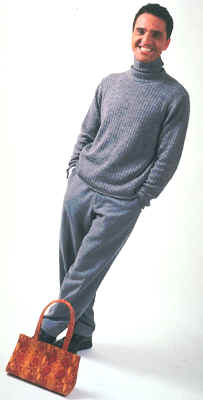 Vascon was born in the small town of Raposos, Minas Gerais, Brazil. At 5 years old he was walking barefoot in the streets, selling old cans and bottles, to help his family."My father was an alcoholic. I was so ashamed of seeing him drunk and passed out on the street, that I would take the money I earned and buy liquor to take home for him," said Vascon. "I am financially stable today, and if he was alive, I could send him to a good rehab clinic, so that he could be treated."
As he got older, he moved to Rio de Janeiro, where he wanted to be an actor. There, he slept on the streets and worked as washing cars.
"One day I was on the beach and I saw an American gentleman reading the New York Times. I havenīt ever seen a newspaper before, and I asked him if I could take a look at it," the designer recalls. "He then told me everything about New York, and how I would love it." It was then that Vascon decided to use his life savings to buy a one way ticket to New York City. When he arrived, he didnīt know a soul, and so he walked from JFK airport to Manhattan, where he slept on park benches and collected cans to survive.
Vascon had a series of odd jobs, including making deli sandwiches and plowing snow. While working at a delicatessen on Lexington Avenue, he used his $80 savings to buy a piece of leather. During the night, he fashioned 8 handbags from his purchase earlier in the day. When morning arrived he went to the Columbus Ave flea market to sell his wares. According to Vascon, the first person who stopped by his table was New York Times journalist Lynn Erman, who wanted to know where he bought the handbags. He explained that he had made them at home. "She then bought all the handbags I had," recalls Vascon. That was on Friday, and on Sunday Erman dedicated a half page of the New York Times Sunday edition to Vascon, whom she called "The Leather Wizard."
"The day after the story was published, I had a scheduled press conference... all the fashion magazines wanted to know more about me." said Mr. Vascon. "After that day, my life changed".
Roberto Vascon became a well-known name in the fashion industry and his handbags became cult objects among his followers. He sold his exclusive handbags in department stores as well as in his own store, which was located blocks from Central Park.
After 8 years of fame and fortune, he had had enough. He sold everything he owned and went back to Brazil in order to rest and put his life back in order. Unfortunately after six years, Mr. Vascon had no savings left and was forced to borrow money from friends in order to buy a ticket back to the States. When he arrived in New York this time, history repeated itself and he once again had to walk from JFK to Manhattan and sleep on a park bench.
"I asked God to give me strength... and I guess he was looking down upon me," recalls Vascon. Indeed He was, because when he started to make handbags again, the same New York Times journalist saw him at the Upper West Side Flea Market Greenflea, and bought more bags, and wrote another piece about him in the Sunday edition, announcing that Mr. Vascon was back in town.
Mr. Vasconīs handbags can be found today at his New York boutique and at Henri Bendelīs department store. What distinguishes Vasconīs work from other designers is the quality and the shapes of his handbags. His bags are made out of exotic skins like ostrich and calfskin, which he buys during his trips to South America, USA and Europe. Each piece is cut by hand and the client can discuss with Vascon her needs, such as color, shape or design. He does not sketch the handbags prior to making them. "I just do it in my head and then put it together," he said.
Despite fame and money, Vascon remains connected to his humble upbringing, never forgetting his roots, never forgetting who he truly is. "America gave me opportunities, but I do have a wonderful relationship with Brazil. Iīve travelled everywhere in the world, but when I go to Brazil, I feel like I am home again."